Exciting updates are happening at Terrana Group, we are proud to announce the launch of our mobile site. As the number of Smartphone users continue to increase rapidly with no signs of slowing down, we strive to ensure that mobile users are served content formatted for mobile devices providing them with the best user experience possible. The team at Terrana Group knows mobile web users want answers and are generally on-the-go and looking for specific, timely information.
Here is what you can expect when using Terrana Group's new mobile friendly site:
Desktop vs. Mobile: User Experience
To better understand the benefits of this update, let's compare the mobile user experience that occurred before and after our mobile site launch. The following screenshots illustrate mobile user experiences for pages of our desktop site and the same pages of our mobile site, ask yourself which of the following shows a preferable mobile experience, and which one you'd abandon quickly. Then ask yourself which Google, and you as the user, is likely to consider a mobile friendly experience:
Home Page
Before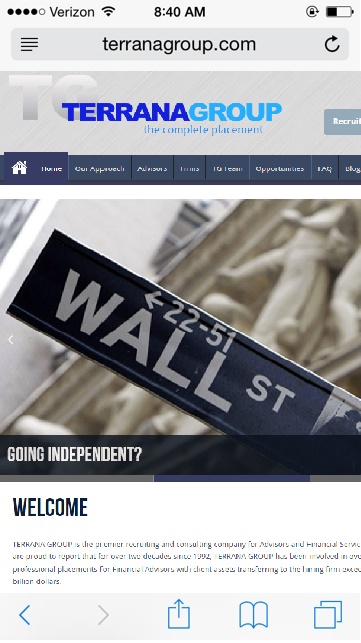 After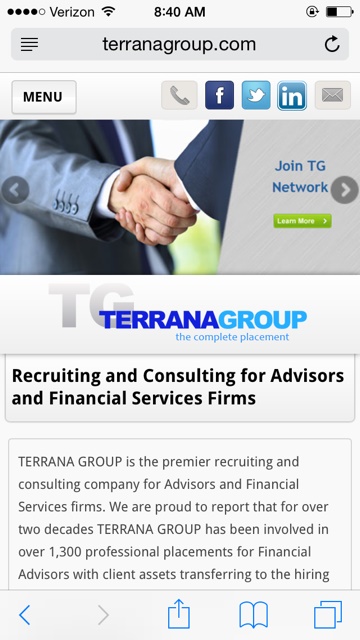 Mobile users have different objectives than desktop users and typically this means they want information in quick, easily digestible bites, Terrana Group's new mobile site makes it possibly to quickly access and browse menu options for ease of navigation. The site is also formatted to make small text readable on your mobile device without having to zoom or resize the page.
We have all been there, a friend sends us a link via text message or email and when we try to open that link on our mobile device, and either the page takes too long to load or does not scale to fit your mobile device. If the you cannot easily browse and read the content on a website from your mobile device, we lose out on the opportunity to share our message with you.
Check out our new site and let us know what you think! Go mobile!